Shopify vs Woocommerce. Which is the best for your eCommerce store?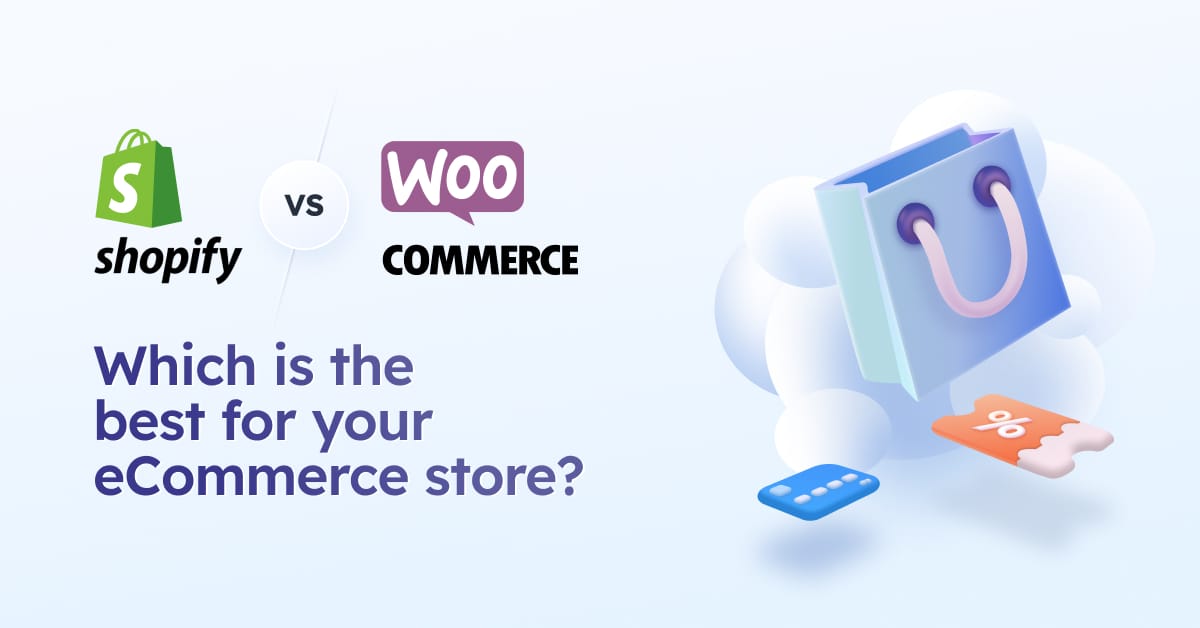 A number of users have difficulty choosing an eCommerce platform as they don't know what to look for in one. Most go for either WooCommerce or Shopify because everyone else is using them but as a store owner, you must develop a rationale behind your decision making and we will help you do just that.

Woocommerce and Shopify are the most common eCommerce platforms nowadays, the target of this post is to possess a transparent understanding of the most differences between each other by an eCommerce platform comparison. Both are very strong platforms and will help you build and manage your online store, but let's take a closer look at each one with a short description.

Shopify is an online e-commerce tool that assists users to build a shopping store without any requirement of code development and modifications. The platform is easy to use and allows the user to operate on their own. Shopify follows the "software as a service" (SaaS) model for payment which means the users pay monthly for a Shopify account and access the platform via the internet.

WooCommerce is an open-source E-commerce plugin by WordPress which is made to accomplish shopping portal development projects professionally. It comes with a host of eCommerce features that can be easily integrated into a WordPress-based website. The Woocommerce plugin is free and it is built to be cooperative with many other plugins that support a WordPress website in terms of functionality.

Let us consider a few factors before choosing an eCommerce platform:

1) Design:
Shopify offers both free and premium shop templates for its users. The paid themes offer up to four different layout styles. These designs are modern and fully responsive across all devices. Whatever Shopify template you will choose, you get an option to adjust the layout looks, and you don't need to understand code or have any technical knowledge. By the use of Shopify's visual layout editor, you can add specific content sections to your homepage, such as a product image slideshow. You can also adjust colors, fonts and add images onto each page also like your logo.

WooCommerce also offers a wide range of free and premium templates, depending on one's needs. As WooCommerce is open source, you will create or buy someone to make your own storefront layout from scratch. This allows you to have something completely unique and tailored to your requirements but does require web development skills.WooCommerce is a better choice for those who want highly customized storefronts, while Shopify is best for those who want to achieve a nice-looking store quickly and without coding knowledge.

2) Search Engine Optimization:
SEO is the process of tuning your website for search engines so that you can drive an amount of traffic to your online store. In the case of Shopify, the platform comes with editable SEO options such as customizable title tags, 301 redirects, meta information, and automatic sitemap generation. Shopify simplifies the maximum amount of the web selling process possible for its users and optimizing your online buy search engines.

WooCommercebenefits from several built-in SEO functionalities and third-party apps. A popular (and free) third-party plugin you can use is Yoast which enables you to set up canonical URLs, which helps to avoid the penalty issue of duplicate content, as well as being able to create a specific title and meta descriptions that appear in search results.

3) Extensions and Integrations:
Both these platforms are filled with a variety of extensions and integrations available for their users as per their requirements.
Woocommerce provides a wide variety of apps, from store management, payment, shipping, product type, marketing, and other enhancements.

The Shopify Store has add-ons to help with sourcing products, marketing, sales, shipping, inventory management, customer service, and accounting tools. Many of these extensions are free, but there are many that require monthly recurring payments.

4) Pricing:
Shopify users pay any of three monthly packages that are basic, mid-level, and advanced in exchange for different product features, the total number of users, credit card rates, and transaction fees.

Woocommerce is liberal to download and use, meaning that there are not any monthly ongoing costs simply for using the software. In Woocommerce there are no transaction fees.

5) Flexibility:
WooCommerce is super flexible when it involves customizations. Users have full control over the whole platform. You can add any functionality imaginable to your website with the help of a large number of WordPress plugins. There is no built-in drag & drop design-builder. One has to use page builders such as Beaver Builder paying an additional cost.

On the other hand, Shopify has an intuitive drag and drop interface which makes it easier for the users to manage their products, sales, and inventories. One demerit of this highly optimized user experience is that it has limited control. One can only use the design and development tools provided by Shopify.

And there are many other factors that can be used to compare which is a better platform.

What's the conclusion?

Shopify and WooCommerce both are two excellent eCommerce platforms that can be used in different types of businesses. Both have their own advantages and disadvantages.

We can say that Shopify is for those who don't have much technical knowledge, and want to sell their products or services online quickly, and seek out a really user-friendly interface for their business.
On the other hand, WooCommerce is a perfect choice for businesses who want more creative freedom with their projects, have some web development knowledge, and are able to edit and manage their content on their own.

So it's really difficult to say which of the eCommerce platform is considerably better than the other as it all depends upon one's business goals, needs, and capabilities.