5 WordPress Hotel Booking Plugins in 2021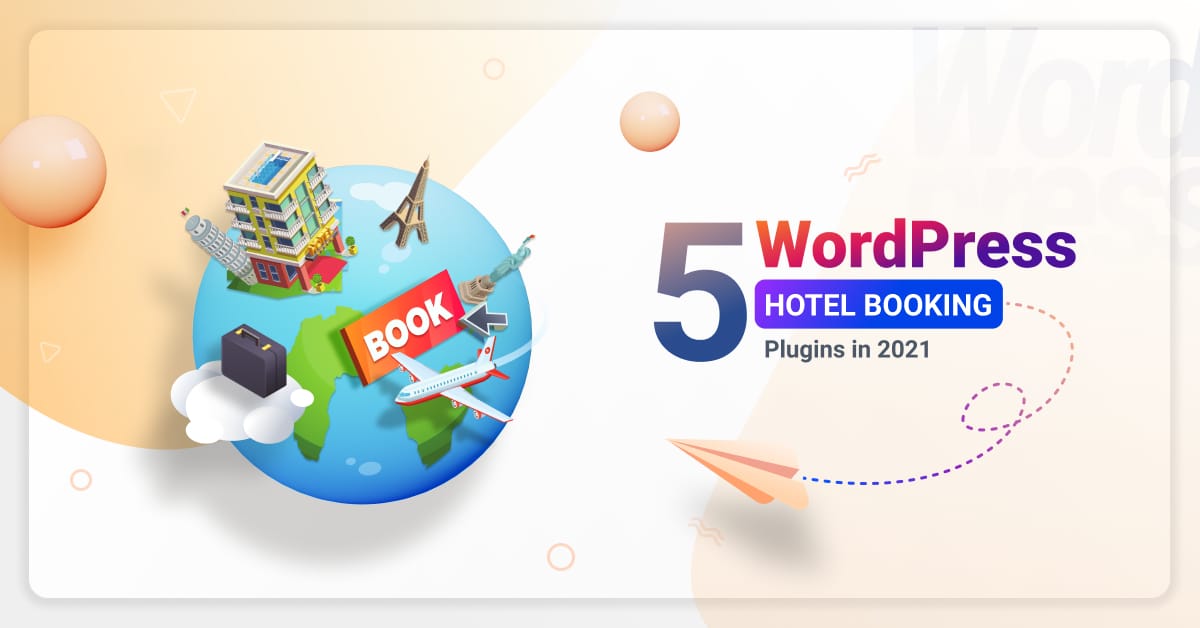 A booking system is a must-have feature for every website that promotes its services. The tourism and hotel industry is one of the most important sectors that attracts various customers over the globe. Earlier people visit new places and search for a hotel to have their stays. But now many hospitality businesses have upgraded their online presence by integrating a variety of features. Among those features, one of the most important features is online booking that enhances customer's experience and trust. This feature allows you to capture direct booking reservations.

Booking Plugins have become an important part of online business. Now let's have a look at some most important hotel booking plugins along with their features so that one can implement them into their website for the ease of use of their customers. Enlisting down some of the plugins below:

1) HBook – Hotel Booking Plugin
2) PinPoint Booking System Pro
3) WP Simple Booking Calendar
4) MotoPress Hotel Booking

5) Awe Booking

Now let us discuss these plugins in detail one by one:

1) HBook Hotel Booking Plugin:
HBook hotel booking plugins allow one to easily enable online reservation facilities into their WordPress websites. This plugin is perfectly suitable for any business owners in the hospitality industry either they are in the hotel business or B2B. HBook plugin can be translated into multiple languages such as French, Italian, German, etc. Business owners can be able to add availability calendars, rates, booking forms to their website within seconds.

Pros:
– iCal synchronization feature is available that helps the business owners to connect their websites along with Airbnb, Homestay, etc.
– A variety of demos available for Frontend


Cons:
– It is relatively expensive.
– It does not deal with several hotels with multiple rooms.
– There is no provision for a backend demo.

In short a pretty initiative responsive UI that allows one to add their hotel data very quickly along with the ability to set discounts, multiple online payment supports, and much more.


2) Pinpoint Booking System Pro:This plugin is not only limited to the booking of hotel rooms reservation but it can be used with different hospitality businesses also. The plugin generates a booking calendar that can be put with each room and provides the visitor an option to book accommodation. Pinpoint booking system pro has a wide range of features to select from and use with your calendars for the bookings.
Pros:
– Multiple languages support for both frontend and backend
– Multisite support
– Apart from hotel reservations it can also serve other booking needs such as Event bookings, etc
Cons:
– This plugin doesn't allow you to set room rates.
– If anyone wants to add an additional payment gateway other than Paypal then they need to purchase an extra addon for it.
3) WP Simple Booking Calendar:
This booking plugin is ideal for small businesses or for someone who wants to promote their business online based on online bookings. This calendar comes in handy anytime someone wants to display the availability of rooms in their hotels. This plugin comes in two versions- One is Free and the other version is Pro. The free version comes with the basic features and allows the user to create a calendar, show currently available bookings, etc. The Pro version offers a lot of customization options and calendar editing options.
Pros:
– Don't have a complex interface to work out
– Easy integration with Google Calendar
– Fully responsive (works great both on mobile and desktop)
Cons:
There aren't any particular cons with this plugin so far.
4) MotoPress Hotel Booking:
Motopress is a complete hotel and vacation rental booking system. This plugin is handy for non-tech people also apart from the developers as it doesn't require any coding. This WordPress booking plugin comes with all the needed functionality to run a fully functional hotel business and manage reservations. It comes with a modern responsive design.
Pros:
– Comes with detailed documentation for the newbies.
– Advance sorting options are present that help the guest to find what actually they are searching for.
– Options to automatically generate rooms and accommodations.
Cons:
– It can be used for only one hotel with multiple rooms and can't be used for a chain of hotels.
5) Easy Reservations:
A free WordPress plugin for everyone to add availability calendars and booking forms for the users to search on your website. It's very flexible and intuitive and has a wide range of features such as a minimalistic calendar design, a quick booking process, and many more.
Pros:
– Feature-rich plugin
– Ability for the guest to edit their already made bookings.
Cons:
– There is no frontend and backend demo available.
An online booking is a must to have feature if you wish to succeed in your business in this digital era. All WordPress booking plugins mentioned in the blog are reputable
Solutions, but one has to make the choices as per their requirements.
So which WordPress hotel booking plugin seems like how to travel for you?