Selecting the Right CMS for your website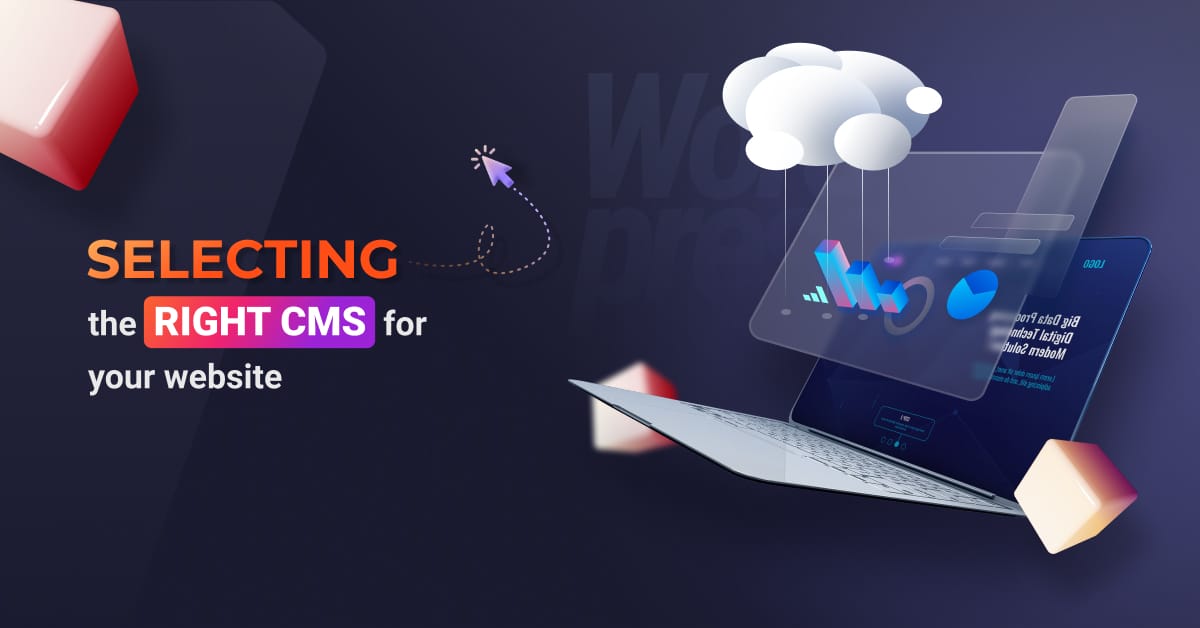 The topic itself is very complex as choosing the correct CMS can be a very tough task. There are many CMS (Content Management Systems) are available in the market and selecting a particular one can be a complicated task. I know many of you know about the content management system. Still, let us try to understand some basic points.

What is a CMS (Content Management System)?
CMS (Content Management System) is software that helps a user to create and manage websites with a human-friendly interface. Without writing any code CMS allows you to create websites.

What are the benefits of using a CMS?
Here are some of the benefits of using a CMS for your website:
1) Suitable Content Scheduling
2) Can work with any size of business
3) Easy controllable
4) Customization options available

What are the factors to be considered in selecting the CMS for your website?
Listed below are the few factors that are needed to be considered while selecting the best CMS (Content Management System) for your website:

1) Level of Customization they allow:
There are many CMS available in the market and each and every CMS have their own level of customization. This level of customization plays an important role in selecting the right CMS for your website. A basic CMS will not give you the facility to edit your website much nor you can personalize its layout.

2) Scalable or Not:
Either it's a small business or a large it goes to a change every time and this naturally has an impact on their website. A content management system should be scalable and can grow as per the changes in the business requirements.

3) User Friendly:
The ease and convenience that a CMS offers to its users reflect its excellence. It varies from one user to another but all business wants a user-friendly system. So it is very important that while selecting a particular CMS the users must verify that the features are user friendly or not.

4) Fresh Content:
Most of the CMS have an up-to-date content library that is easily accessible. It is very easy to share the content on a CMS making the site a portal to other great content for your users.

5) Dashboard:
An interactive dashboard is very helpful for the people who are nontechnical or we can say that who doesn't understand programmings and scripts. It helps in the creation and also the management of all the website content from a single place.

6) Social Media Integration:
Social Media is an important part of every business nowadays. This is the main reason that many businesses have been focusing on social media platforms. An ideal CMS has the capability for social media integration for the users to leverage the power of social media.

7) Costing:
The cost should not be considered as the main factor as it can confuse you making your decision. There are many options available that you need to have to check out before having the CMS. If the user is looking for a pocket-friendly then there are many open source CMS platforms available such as WordPress, Drupal, etc. Open source platforms have many benefits too such as license-free, regularly updated. If you have a good budget then you can go for the proprietary CMS that provides direct technical support. This cms is developed and maintained by a single company.

Let us highlight some features of a good CMS:
1) User Friendly
2) Secure and Scalable
3) Comes with SEO friendly URL
4) Has strong front end and backend with multilingual support
5) Allows content and dashboard customization
6) Allows integration over platforms

Some of the best CMS available in the market are:
1) WordPress
2) Drupal
3) Joomla
4) Shopify
etc

At first, you need to understand your needs before you opt for a CMS. Do you need a blogging site only? Or you need a site with payment options? The choice will depend only on the needs you want. The objective of a CMS is to offer a business an easy and convenient way to create content. Choosing a CMS is a tough job but the above-mentioned factors can help you in deciding the right CMS for your business.