Top Reasons It's time to Redesign your Website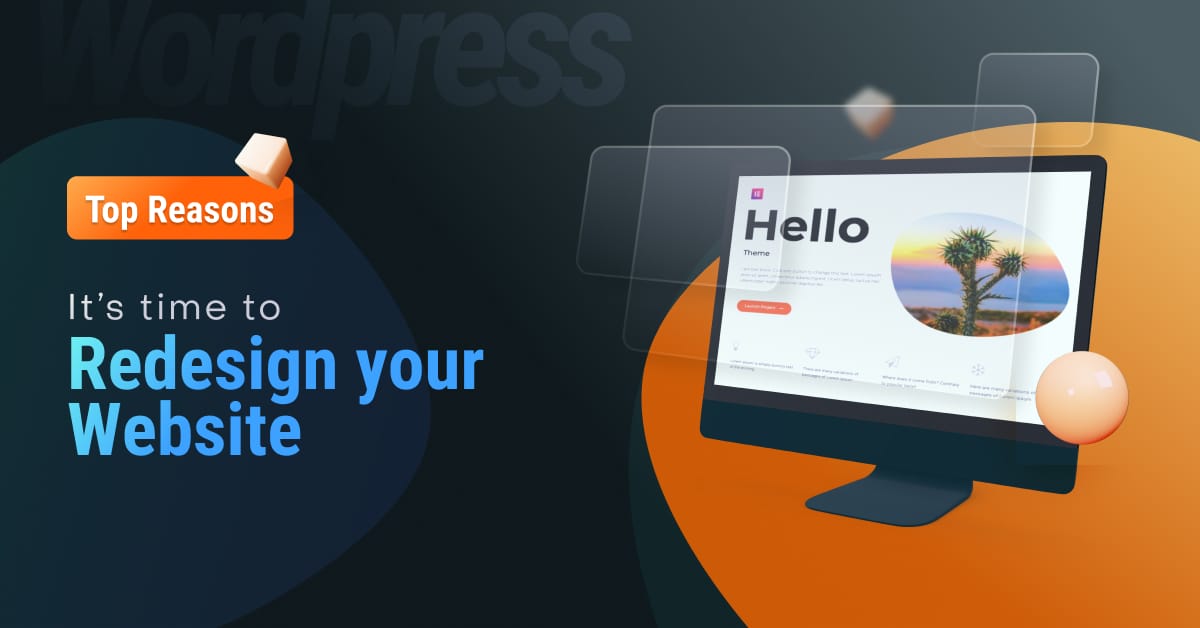 We live in a digital world that is constantly and rapidly changing. Your website is one of the most important elements of your digital strategy. If your website is not up to date with this fast-changing environment you must be aware that you may lose potential new customers and even the existing ones. Keeping the same thing always can be a block to the success of your business. You need to invest, innovate, and iterate constantly to become and stay relevant.

How can we say it's the perfect time to redesign your website? Below are a few reasons one should check in their website that might signal it needs a redesign:

1) Backdated Content:
Are you adding fresh content to your website that can attract your present as well as existing customers? New promotions, new landing pages, new blog posts relevant to your business niche can be a plus factor. Make fresh content and stay fresh. It will help in reminding your customers that you are still around.

2) Not Mobile Friendly:
So after making the content fresh it's now time to check whether your website is mobile responsive or not. With the increased use of mobile and tablet devices to access content online, your website needs to be responsive on all devices. It's not only that it should work on these devices also it should be easy for the users to access the content that you are providing to them. Think about it.

3) Target Audience or Branding Changed:
If you are launching a new product or service it may involve shifting your marketing strategy to a new environment. The same thing happens with rebranding your business, product, or services. If your navigation is not intuitive or if your users can't find what they are looking for, then they are going to leave your site and go to the competitor's site. In simple words, whatever branding you are changing must be reflected through your website.

4) Outdated Look:
The first impression always counts. You have got a few seconds to get the customer's attention and to convey enough value to engage them. The quality of the website design is a direct reflection of your business, so it is very important your website looks professional, modern, and contemporary. Because if you will not focus on this area your customers will move away from your site and will go to a better-designed site of your competitors.

5) Not Ranking in Search Engines:
Your website must be search engine optimized if you want to rank high on search engines. You have to use proper keyword phrases within your content. You can optimize the images and use the appropriate web page titles to include your target keywords.

6) Bad User Experience:
Online customers are less likely to return to a site after a nasty experience. Now quickly have a look at a few points of what is considered a bad user experience. There are a couple of things such as site speed too slow, hard to navigate, broken links, etc that makes your user frustrated.

7) Website using Flash or gifs:
Is your website still using Flash or gifs? Then it's time to redesign it as these technologies are outdated and aren't accessible on all platforms such as iOS and unreadable by big search engines such as Google.

8) Slow Loading:
Every customer expects the website to load in less than 2 seconds. But if your website isn't loading very quickly (maybe taking more than 3 seconds) then you might lose potential customers or visitors.

Although this list is not enough to cover all the possible reasons a website might be in need of redesigning, I believe it will help you to consider if your website needs a redesign or not.