What will be new in WordPress 5.8 version?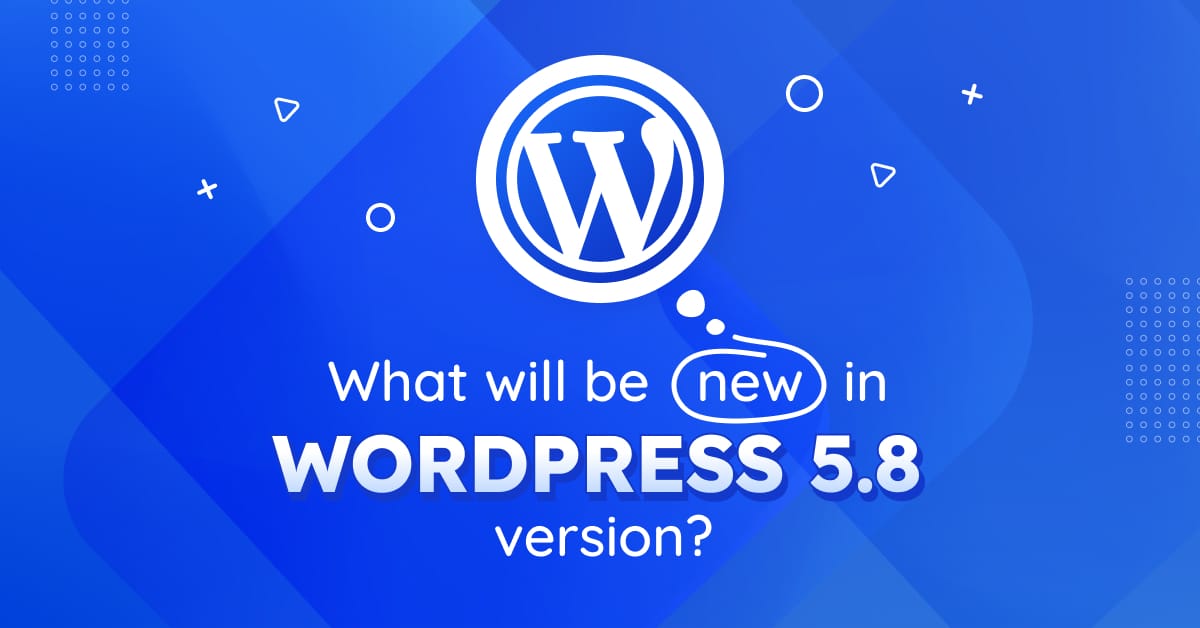 We all know that the beta version of WordPress has been released and the expected date of release is in July 2021. The release of this version will be the second major release by WordPress this year as we are all aware that earlier in April 2021 the Esperanza version i.e the WordPress 5.7 was released. WordPress 5.8 version will come with many new features and improvements. You can check out the beta version on your laptop or computer or a staging environment using the WordPress Beta tester plugin.

In this blog, we will discuss what new features will be coming up with this version of WordPress. Let's check them out one by one:

Introduction to Template Editor:
WordPress 5.8 will come up with the template editor option that will help in creating a full site editing tool using the block editor that one can expect with the future release. The template editor will allow you to create and save templates for your WordPress websites and use them for any page or posts later on. The template editor will allow you to add site editing blocks. This feature will be an optional one. The developers and the users can easily disable it.

Blocks as Widgets:
This is another step towards experiencing a full site editor with the new blocks as widgets interface. The users will be able to access the new widget experience by using the customizer or by the Appearance option. The blocks with the widget option will bring the flexibility of the block editor to your WordPress sidebar widget. If you don't want to make use of this feature you can simply switch back using the Classic Widget plugin.
Introduction of WebP Images:
WebP images are a new file format for images that will be used on the web. By using this format, the images will be 25-30% smaller in file size as compared to the JPEG and PNG formats and there will no loss in the quality. At the moment WordPress is not supporting the WebP format and one will see always an error when they will upload this format image. Nothing to worry about now. With this new version of WordPress, you will be able to upload the WebP images to your WordPress website without the use of any plugins.
Selection of Parent Block in Nested Block:
The nested block like columns and groups allow you to easily group blocks. However, it becomes difficult sometimes to select the parent block within a nested block. The new version of WordPress will show a visible parent block button in the toolbar.
List View Improvements:
WordPress 5.8 will be having an improved list view pattern. It will show the users a complete list of blocks in the post or page. This will make it much easier for the users to move to a specific block in a more complex layout.
Improvement in Select tools with Block Handles:
The select tool will now show a better block with a handle to move the blocks up and down. When you will be using WordPress 5.8 you will see better block highlighting as you will move your mouse around different blocks.
Duotone Filters for Images and Media Blocks:
This is another exciting feature that will come up with WordPress 5.8 version. The users will be able to use these filters over the media blocks such as images, galleries, cover images, etc. These filters come up with a few preset and also users can create their own presets as well as choose the colors they want to apply.
Pattern Suggestions in Add Block Panel:
Use of the add block panel if you are searching for a block the editor will also suggest patterns that you can add instantly. New patterns are available and the initial work has been put on integration.
Existing Blocks Improvement:
Many improvements have been made to the existing blocks such as more color options to choose text, link colors, and backgrounds. There is also a new option for adjusting padding amongst the columns. The users can also select gradient backgrounds for table blocks.
Conclusion:
WordPress 5.8 will also bring many other features for the developers to explore and apply to their themes, plugins, etc. I believe this article will give you a glimpse of what features will be coming up with the WordPress 5.8 version. Let us know which feature you find the most interesting.