Why WordPress is the best one in CMS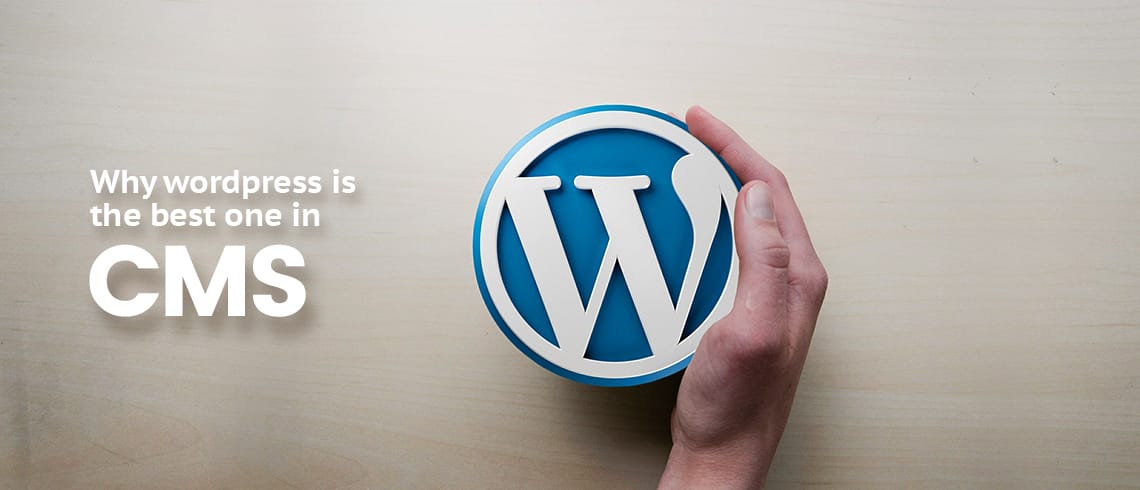 Prologue:
Comparing a large number of Content Management Systems (CMS) available on the market is the right way to find the perfect one for a project. One needs to think about the future goals and possibilities of extension of the project before choosing the CMS.
Let's have a brief look at the most used CMS in the market. We are going to focus on the most used one as they have already proved their mettle against their competitors. The three major CMS in the market are WordPress, Drupal, and Joomla.
Looking at the stats below, we can readily say that WordPress is one of the best among them.
| | | | |
| --- | --- | --- | --- |
| | WordPress | Joomla | Drupal |
| Cost | Free | Free | Free |
| Usage | 311,682 million | 26,474 million | 31,216 million |
| Free Themes | 4,000+ | 1,000+ | 2,000+ |
| Free Plugins | 45,000+ | 7,000+ | 34,000+ |
| Pros | Easy to learn,Massive support from the online community,Availability of resources to build a feature-rich site free of cost | Easy to learn,The ready availability of help portal,Social-networking friendly, Seamless integration of updates,Increased Built-in options | Content types and views can be customized,Access controls.Multilingual sites support |
| Cons | Visual customizations require codes,Plug-in issues reported after updates | Maintenance intensive modules,Middle-ground CMS (WordPress is easier, Drupal is more advanced) | Elementary knowledge of HTML, PHP, and other web development languages required |
Now a question might be asked, why have so many users chosen WordPress as their web development CMS?
Reasonsfor being the best:
WordPress is an online, open-source website creation tool based on PHP and MySQL which makes it easy to learn, easy to use. It was launched in 2003 and has evolved from a blogging platform to a CMS. These days, most online business websites prefer WordPress as their choice of platform.
#1) Create Any Website With WordPress:
Almost all websites, from a simple blog to a thriving e-commerce site, can be built using this CMS. It's easy to use, yet powerful and flexible enough to accommodate your unique requirements. WordPress has a large number of themes and plugins to accommodate even Membership websites, Knowledge Base & Q/A websites, or a classified ad site.
#2) Easy User management:
Managing the user on your website is one of the most crucial tasks as not all of your users should have equal rights to access all your data. WordPress comes with a built-in easy user management policy which even can be customized if needed.
#3) Rank High in Search Engines:
It is needless to say that when we build a website, we want it to reach every nook and corner of the world. According to Google, the tech giant WordPress is exceptionally SEO friendly (in a numeric figure, it's higher than 90%). That means your site can easily be found in relevant search results in the search engines like Google, Bing, Yahoo, etc.
#4) Safe and Secure:
Whether you're running a personal blog or a large e-commerce website, you'll want to make sure your site is secure. Protecting the assets of a site is of the highest priority nowadays. WordPress provides a core security functionality to protect your information and web assets right out of the box. Releasing Security updates periodically has been a significant focus of WordPress since its initial release. Apart from that, WordPress has a large number of excellent security plugins to withstand any attacks.
#5) Large community support :
WordPress communities are like "A friend in need". Although using WordPress and its components is super easy yet creating a website may sometimes cause hiccups. But fortunately, the community includes users of versatile and diverse skill sets who are ready to advise, guide and even provide direct assistance.
Conclusion :
The astonishing market share of WordPress is the best evidence of it being one of the best CMS. Apart from the highlighted points, there are many other compelling reasons to use WordPress. In this mobile era of internet technologies, it is relatively straightforward to develop REST API endpoints with WordPress. Modern PWA technology can also be incorporated with additional plugins without any hustle. Let's have a look at the WordPress usage statistics in a nutshell: