Wix vs WordPress: The Right Choice For You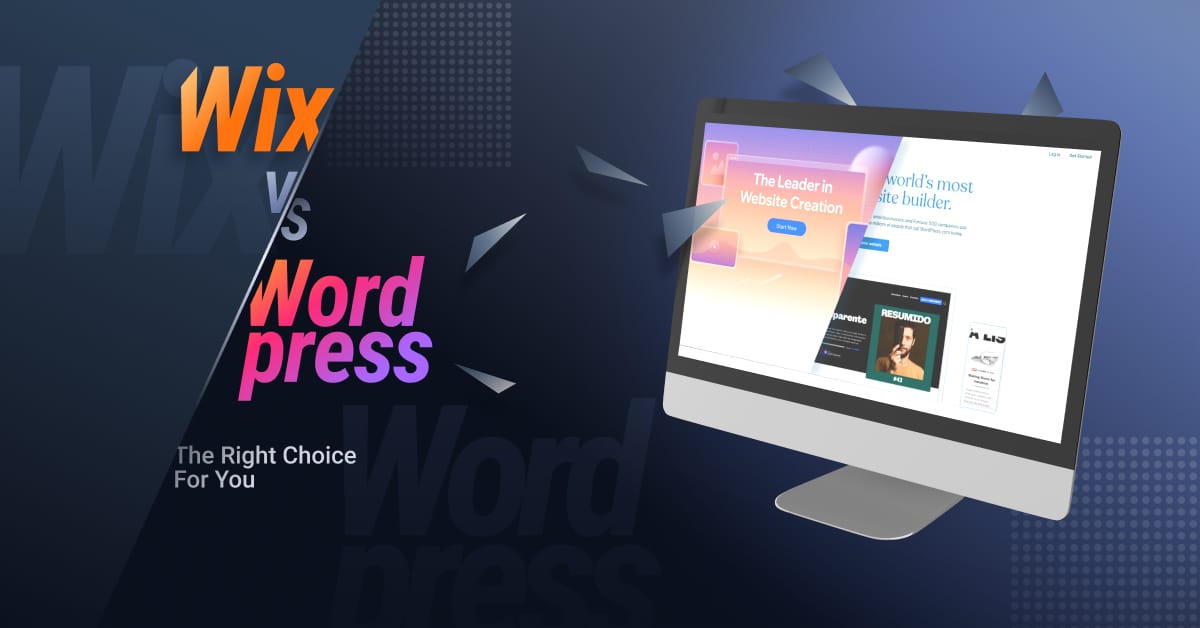 WordPress and Wix both are very popular and widely used website platforms available in the market. We will check out the difference between Wix and WordPress to know which one should choose as per their needs.

Wix and WordPress both offer built-in features, templates, and add-ons for creating and managing a custom site without coding.

Let us check out what is Wix and WordPress:
Wix is a web builder that offers website building tools and hosting in one place. Wix is an ideal option for creating and launching a site quickly for users who don't have the time to learn or use a variety of features.

WordPress is a multi-purpose content management system that provides the advanced features and customization options needed to create and manage a complex site. Well known for creating blogging, eCommerce, and other kinds of websites in different niches.

Now lets us see the comparison between Wix vs WordPress – The following points will help us understand better the best platform:-

1) Flexibility
2) Plugins and Themes
3) SEO
4) Pricing
5) eCommerce
6) Security and Support
7) Blogging

Flexibility:
The choice of a platform is, in part, about deciding whether flexibility or ease of use is more important or not.

Wix allows users to develop and launch their websites very quickly. One can have their own custom domain, choose the colors, fonts, on their site, and add more elements like animation and scroll effects. Few issues are there such as you can't add forms or featured images to blog posts, you can't switch templates after your website goes live, and you can't edit the underlying code.

While WordPress is much more flexible. One can adjust the appearance of their site, change the settings, create and manage blog posts, enhance their security, change the style of each of the category pages, add forms and live chats, and much more.

Plugins and Themes:
Wix and WordPress offer third-party extensions. For Wix, it is called "add-ons" and for WordPress, it is known as "plugins". With the help of these, the site owners are able to add features or extend the platform's functionality to meet their required needs.

Wix has a comparatively less number of plugins, resources, and collections of apps. The free plan doesn't allow custom domain names.

WordPress has huge resources and a large number of plugins and themes available in the library. One can find both free and premium themes and plugins over there. For every unique feature, one can find the plugin as per their needs.

SEO:
Wix has several built-in SEO and marketing tools. It helps to optimize one's site's SEO smoothly, increasing their rank position on search engines like Google.

WordPress comes with lots of SEO plugins and tools for your website. WordPress has proper SEO-friendly permalinks, title tags, easy content creation, and optimized images that ultimately boost your site's SEO and Google rank.

Pricing:
This is the most important part that many will look at when considering Wix or WordPress.

Wix offers a reasonable pricing policy. There are several subscriptions available one can select from as per their requirements. Wix also has a free plan, which never expires and can be used to test the entire functionality of the platform.

WordPress is initially a free content management system. One can download and install it paying no cost. But when the situation comes to developing full-featured websites with the CMS, you may have to consider the need for plugin or template integration. The final cost will depend upon that.


eCommerce:
Wix has an integrated eCommerce engine that lets you connect a web store by means of Wix Stores widget integration. One can integrate and customize a shopping cart, manage order/product parameters, adjusting show window display options, implementing special offers/discount programs, tracking web store statistics along with shipping/payment details.

WordPress allows one to start their eCommerce site using the Woocommerce plugin. Woocommerce plugin is a free open-source shopping cart plugin designed for WordPress, which delivers a broad range of web store-related features provided out of the box. When working with WooCommerce, you can upload, manage, and sell any number of products, with special offers and coupon codes.

Security and Support:
Wix provides support in many forms such as phone, chat, customer service emails in all their packages. There is also VIP support available if one goes for expensive plans. When it comes to security I can say Wix is a far better choice as compared to WP.

WordPress is a free open-source platform so they don't have any customer support features. However, many WordPress guides, documentation, tutorial videos, and other stuff have been provided by the WP community for helping out the users.

WordPress is also a more secure CMS in comparison to Wix as it comes with a lot of security plugins that provide a high-security standard.

Blogging:
Blogging nowadays is very common and so many users want to start blogging using an easier platform. Wix and WordPress both can be easily used to start blogging.

Wix comes with all the basic features and functionalities of blogging that one needs such as tags, categories, videos, photos, archives, and much more. But there is no commenting system that Wix provides, rather it uses Facebook comments which are not portable.

WordPress is initially a blogging platform. It is full of blogging features that one will require to start blogging. Tags, categories, media, headers, and many other important elements are available in WP. One can also implement a blogging theme that makes your blog more ideal.
We cannot decide which website builder will be the better one as it is one's personal choice. Wix would be a good choice for a website that does not need expansion in the future. WordPress would be a great choice when it comes to Blog websites and eCommerce stores. Ultimately you will have to decide which will be the right one as per your needs.